Procurement Policy
We promote procurement activities based on the following basic policy:
1.Compliance with Laws, Social Norms

We comply with all laws, regulations, and rules in our business dealings, and always be strict and firm. We do not engage in speculative activities under any circumstances.

2.Prevention of supply disruption

In principle, we secure multiple suppliers for the same type of materials to prevent of supply disruption.

3.Promotion of social responsibility(Respect for Human Rights)

We practice responsible purchasing with respect for human rights as our top priority.

4.Fair, proper and effective purchasing

We always find the best approach to the market and monitor industry trends to ensure efficient purchasing.

5.Information Management

We prevent the leakage of confidential and personal information.

6.Mutual development of quality and technology

We actively cooperate with our suppliers to continue to improve their quality control, its management techniques and technological development each other.

7.Environmental conservation(Green Procurement)

We comply with laws and regulations related to chemical substances as well as customer requirements, and conduct environmentally friendly purchasing.
Efforts to comply with RBA
In order to fulfill our responsibility as part of the supply chain in the industries that our products and services are used, we strive to conduct our corporate activities in compliance with Responsible Business Alliance (RBA) Code of Conduct*, which is a code of conduct regarding Corporate Social Responsibility.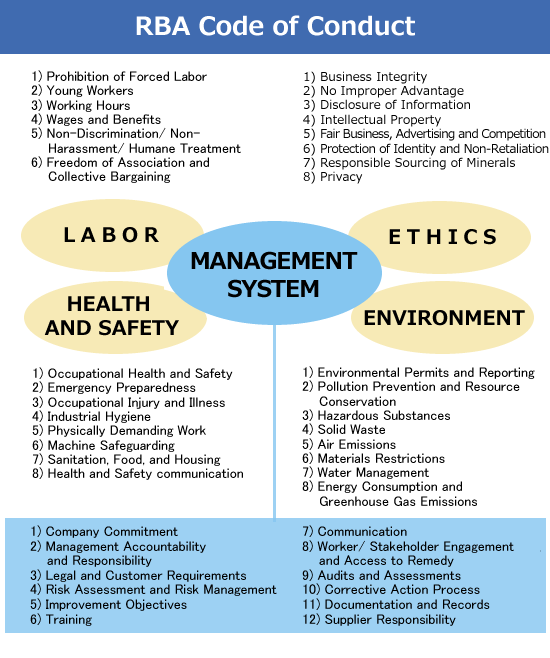 In addition, we regularly request our major suppliers including raw materials and sub-materials necessary for the manufacture of our products and outsourcing company etc., to submit a written agreement regarding their compliance with RBA Code of Conduct.
Through our efforts to comply with RBA, we will continue to fulfill our social responsibility and aim for fair and sound development of the supply chain.
* RBA Code of Conduct is a set of standards to ensure that the working environment is safe, that workers are treated with respect and dignity, that companies take responsibility for reducing the environmental impact of their manufacturing processes, and that they conduct their businesses ethically in the electronics industry, industries in which electronic equipment is a major component, and their supply chains. This standard consists of five items: Labor, Health and Safety, Environment, Ethics, and Management System.